Michael T. Danks, CLU., AIIC
The Group Professor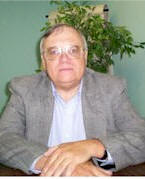 Michael Danks entered the insurance business in 1969. Over the years, he has obtained his CLU and AIIC designations. Michael was a trainer at North America Life and Director of Marketing and Training at Commercial Life.
Through his effort and determination, he built $25,000,000 of premium for the Chambers of Commerce Group Plan and developed the Better Business Bureau insurance plan in Ontario. Michael is currently the Director of the Innovative Business Club, an international business association providing networking, education, and group insurance.
Mike is a Boompreneur. He has owned 9 businesses since 1978 and he is still running 4 or them.
Mike and Colleen, his wife of over 48 years are also the owners of 3 working farms. Together they also own 9 investment properties and own a family residence in Florida.
Mike likes to travel and since 1990 he and Colleen take 14-16 weeks off yearly to recharge the batteries.
Together they have 6 children and 10 grandchildren. Even with all his children and business endeavors, Mike has had the time to write 3 books.
Mike says that one of his greatest experiences was becoming an EPC in Dec. 2017. This is the first time he has written an exam in 35 years.
He attributes any successes in life, to owning your own business and being your own boss controlling your destiny.